Fake IRS Scammers Using 202 Area Code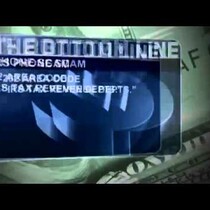 Posted August 29th, 2014 @ 9:23pm
Always be skeptical if you receive a phone call out of the blue from someone claiming to be with the IRS. The agency says they will always send official correspondence through the mail before any other attempt to contact is made.
At least 90,000 complaints have been received by the Treasury Inspector General for Tax Administration through its hotline, with 1,100 victims having lost approximately $5 million from the scams. Scammers have spoofed either the IRS toll-free number or the District of Columbia area code on the caller ID. Most complaints report the call originating from (202) 609-7070. The IRS suggests not answering calls from this number.
The IRS also warns that the agency:
Never asks for credit card, debit card or prepaid card information over the telephone.
Never insists that taxpayers use a specific payment method to pay tax obligations
Never requests immediate payment over the telephone and will not take enforcement action immediately following a phone conversation. Taxpayers usually receive prior notification of IRS enforcement action involving IRS tax liens or levies.
Initially the scammers may tell people they are entitled to a refund, or that they owe money that must be paid immediately to the IRS. If unsuccessful, the scammers may call back impersonating local police.