I LOVE this new song from Rascal Flatts!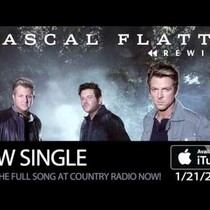 Posted January 8th, 2014 @ 8:59am
"This is going to be the the BIGGEST HIT Rascal Flatts has had in years! I loved it the first time I heard it. Funny I had to rewind and listen again and again. It's really good to hear the guys at the top of their game again." - Michael J
Click HERE to listen to it. http://bit.ly/19dyFly
Hear it on air every hour on the hour today!! Look! A Rascal Flatts Etch-a-sketch!
Look it's a @rascalflatts screen tv !!!! Lolz! pic.twitter.com/ovSnUijuXg
— Joe Don Rooney (@JoeDonRooney) January 8, 2014
The lyric's too! Sing with Rascal Flatts

Rewind - Rascal Flatts

Wish I could reach up and reset that sun

Reverse these wheels , go back and re-pick you up

Went by so fast, oh so sweet

Make me want to re-make a memory

Wish I had me a time machine.

Oh I'd, Float the moon back up in the sky

Put a cork back into that sweet red wine,

Put your midnight hair back up

So you can let it fall one more time,

Un- touch your skin,

Un- kiss your lips and kiss 'em again,

So good, so right

This is one night I'm wishin' I could rewind

I turn back that radio dial, reopen your door

Try to talk George Strait into giving us an encore,

Re-spin you around,

Replay that sound of ya laughing when we hit the ground

I can see it now how bout we,

Float the moon back up in the sky

Put a cork back into that sweet red wine,

Put your midnight hair back up

So you can let it fall one more time,

Un- touch your skin,

Un- kiss your lips and kiss 'em again,

So good, so right

This is one night I'm wishin' I could rewind

I want to re-fall and reply

Baby relive this life,

Float the moon back up in the sky

Put a cork back into that sweet red wine,

Put your midnight hair back up

So you can let it fall one more time,

Un- touch your skin,

Un- kiss your lips and kiss 'em again,

So good, so right

This is one night I'm wishin' I could rewind

Float the moon back up in the sky,

I'm wishin' I could rewind

I want to relive this life

So good, So right