How To Recreate Carrie Underwood's 'Cry Pretty' Makeup Look (VIDEO)
Carrie Underwood is releasing her sixth studio album, Cry Pretty, which features her hit single of the same name, as well as the recently-released "Love Wins," her hit (and opening theme for NBC's broadcast of Super Bowl LII) "The Champion" featuring Ludacris, as well as ten additional new songs.
The new album comes just on the heels of the announcement of her forthcoming "Cry Pretty 360" Tour, as well as the exciting news that she is pregnant with baby no. 2! Carrie is also set to perform in Las Vegas at this year's iHeartRadio Music Festival alongside a lineup of superstar artists.
Over the course of her 10+ year career, since winning American Idol in 2005, Carrie has presented fans with some iconic looks through the years, and her Cry Pretty album cover is just the latest. On the Cry Pretty album cover art, Carrie is seen wiping away tears ... of glitter.
To prepare for her upcoming performance in Vegas, iHeartRadio teamed up with makeup artists Ruthie Weems and Jonny Polizzi from the Center of Makeup Artistry & Design to recreate Carrie's Cry Pretty look during iHeartRadio's Face to Face segment. Now you can recreate Carrie's amazing makeup at home.
Step 1: Start with a colorless eye base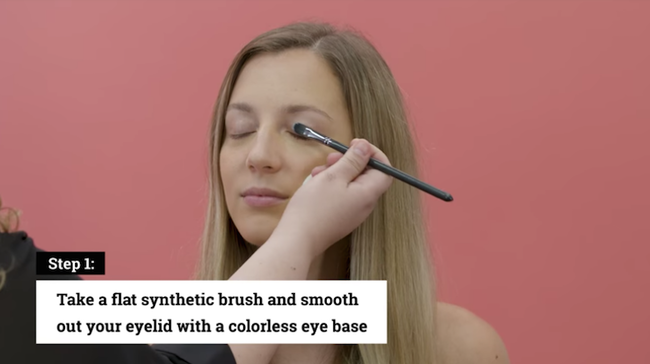 Step 2: Apply a silver metallic eyeshadow to the upper lash line
Step 3: Blend with a fluffy brush
Step 4: Apply more silver eyeshadow to the center of the eyelid
Step 5: Time for some glitter!
Step 6: Add some shimmer to the inner corners of the eyes
Step 7: Time for eyeliner!
Step 8: Smudge out the eyeliner
Step 9: Get lashy! Apply eyelashes to the top lash
Sep 10: Time for tears. Add some pink eyeliner underneath the bottom lashline to form tears
Step 11: Add black gel eyeliner to overlap the pink
Step 12: Apply a thin layer of the black gel liner to cover any exposed eyelash glue
Step 13: Time for more glitter! But first, sealant.
Step 15: Apply more pink liner
Step 16: Apply more sealant
Step 17: And more glitter!